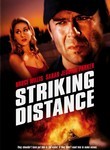 The new generation in a family of cops, homicide detective Tom Hardy (
Bruce Willis
) is demoted when he makes public his suspicions that a serial killer is a fellow officer. But the murders get personal when the victims they begin finding are his ex-lovers. Under scrutiny for possible involvement, Hardy tries to figure out the true killer.
Sarah Jessica Parker
,
Dennis Farina
,
Tom Sizemore
and
John Mahoney
co-star in this tense whodunit.