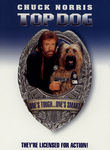 When San Diego cop Jack Wilder's partner is murdered, his new partner is one of San Diego's finest -- a dedicated police dog named Reno. Together, they form an unstoppable team in tracking down the terrorist group who killed Wilder's partner.
Chuck Norris
stars, and
Timothy Bottoms
plays the villainous Nelson Houseman. Chuck's brother,
Aaron Norris
(A Force of One), directs this family-friendly action adventure.