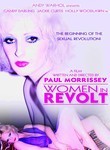 Women in Revolt
Cast:

Director:
Andy Warhol produced and
Paul Morrissey
directed this satire of the feminist movement, which stars a trio of female impersonators. Heiress Candy (
Candy Darling
), virgin intellectual Jackie (
Jackie Curtis
) and man-hating nymphomaniac Holly (Holly Woodlawn) attempt to change their lives by joining the revolutionary feminist group P.I.G., or Politically Involved Girls. But they soon find that liberation doesn't necessarily bring happiness.