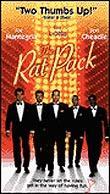 The Rat Pack
Cast:

Director:
Focusing on the time frame surrounding the 1960 presidential election, this entertaining, made-for-cable biopic dramatizes the inner workings of the famed Rat Pack led by crooner Frank Sinatra (
Ray Liotta
). The film looks at the group's camaraderie, their often tumultuous private lives and their connections to the mob and to the Kennedys.
Joe Mantegna
turns in a fine performance in the role of Dean Martin, as does
Don Cheadle
as Sammy Davis Jr.