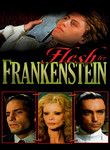 Flesh for Frankenstein
Cast:

Director:
Andy Warhol presents the director's cut of this campy, gore-filled spin on the classic horror tale directed by his compatriot
Paul Morrissey
. This adaptation tells the story of a mad scientist who builds a sex-crazed Adam and Eve with the intention of creating a new race of people. Warhol fave Joe Dallesandro plays a sweaty stable hand whose only job is to play with the wife of Dr. Frankenstein (
Udo Kier
).