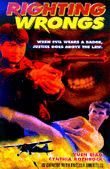 Righting Wrongs
Cast:

Director:
Tired of watching the most notorious criminals go free, court prosecutor Hsia Ling-Cheng (
Yuen Biao
) decides to take the law into his hands when a key witness and his family are murdered. But as Hsia dispenses his vigilante justice, tough, distaff police inspector Cindy Si (
Cynthia Rothrock
) starts tracking him. Plenty of exciting martial-arts action punctuates this thriller directed by kung-fu star and choreographer
Corey Yuen
.