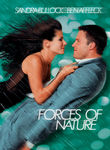 Forces of Nature
Cast:

Director:
When a wayward seagull and approaching hurricane ground the flight en route to his wedding, uncomplicated Ben (
Ben Affleck
) is stuck renting a car with eccentric free spirit Sarah (
Sandra Bullock
). As the odd couple connects, Ben begins to question the marriage that awaits him. But the harder he tries to get back to his bride (
Maura Tierney
) in Georgia, the harder Mother Nature works to keep them apart. Is Ben destined to be with Sarah?