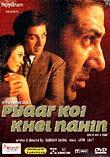 Pyaar Koi Khel Nahin
Cast:

Director:
Brotherly love takes on new meaning in this tale. When Sunil (
Apoorva Agnihotri
), the younger brother, meets and falls in love with Nisha (
Mahima Chaudhry
), the two quickly marry. The older brother, Anand (
Sunny Deol
), however, likes Nisha as well. Thus, when a freak accident supposedly kills Sunil, Anand skillfully moves in to take care of Nisha and the couple's baby. Can Anand remain a family man, or will his shady ways destroy him?