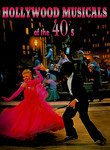 Hollywood Musicals of the '40s
Cast:

Director:
Celebrate the great Hollywood musicals of the 1940s with this retrospective made up of movie clips, trailers and behind-the-scenes footage.
Betty Grable
,
Bing Crosby
,
Gene Kelly
,
Fred Astaire
, James Cagney, Judy Garland, Mickey Rooney and more appear in clips from films such as Moon Over Miami, Holiday Inn, Yankee Doodle Dandy, Cabin in the Sky and Easter Parade. The video also includes the World War II bond promotion "Hollywood Victory Caravan."