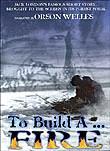 To Build a Fire
Cast:

Director:
Based on a Jack London story, this adventure drama tells the tale of a novice camper (
Ian Hogg
) who becomes lost in the unfamiliar territory of the Yukon woods. When the traveler realizes he's strayed far off course, he knows his chances of survival hinge on his ability to start a fire -- this then becomes his primary objective.
Orson Welles
narrates this predominantly silent adaptation of London's famous story.