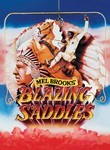 Politically incorrect and damned funny,
Mel Brooks
's take on Hollywood Westerns follows the tortured trail of freed slave Cleavon, who's elected sheriff of the racist town of Rock Ridge. He must foil a land-grabbing governor (Brooks) with help from a washed-up, pot-smoking gunslinger (
Gene Wilder
). Blazing Saddles features
Madeline Kahn
's devastating parody of Marlene Dietrich, and Brooks's witty commentary provides a new dimension of laughs.