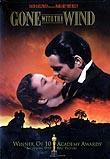 Margaret Mitchell's sweeping Civil War saga remains (adjusted for inflation) the highest-grossing movie of all time and one of the greatest examples of storytelling ever committed to celluloid.
Vivien Leigh
's tempestuous Scarlett O'Hara and
Clark Gable
's handsome rogue Rhett Butler bicker and battle from antebellum plantations to the streets of postwar Atlanta. Brilliantly restored on DVD with vibrant colors and rich sound.