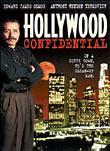 In this made-for-television movie,
Edward James Olmos
stars as Stan Navarro, a former Los Angeles cop who's taken his knack for catching criminals to the L.A. underworld. As a private detective catering to Hollywood's A-list, Navarro accepts a job following thugs who live extravagant lifestyles. But when the case gets too dangerous, he may have to compromise his morals. A young
Charlize Theron
co-stars in one of her first film roles.