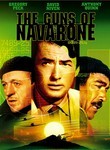 The Guns of Navarone
Cast:

Director:
The Germans will annihilate thousands of British soldiers trapped in Greece unless help arrives quickly. But the dreaded guns of Navarone will destroy any rescue ship that comes within their mighty reach. Can a commando team of Allied soldiers and Greek partisans (including
Gregory Peck
,
Anthony Quinn
and
David Niven
) succeed in doing the impossible? Classics fans will love the must-see bonus features.