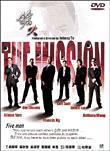 The Mission
Cast:

Director:
In this Hong kong actioner, when a hit on a triad boss fails, the mobster's brother (
Simon Yam
) assembles an unlikely group of gunmen as bodyguards, including a barber turned killer (
Anthony Wong Chau-Sang
) and a take-no-prisoners barkeep (
Francis Ng
). The quintet ultimately gels into a precision team of assassins who eliminate threats to their employer. But after one of them beds the boss's wife, the other four must waste him or die themselves.