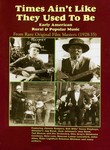 Times Ain't Like They Used to Be
This musical documentary includes some of the first country and blues tunes ever put on sound film. Featuring footage from the 1920s and '30s, the film presents the musicians in their elements, be it at square dances or on their front porches. The Duke Davis Banjo Band plays "Ida,"
Jules Allen
sings "Home on the Range," Fiddler's Convention performs "Turkey in the Straw," and the Cumberland Ridge Runners offer their rendition of "Goofus."