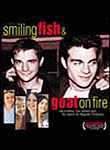 Smiling Fish and Goat on Fire
Cast:

Director:
In this quirky comedy, orphaned brothers Chris (Derek Martini) and Tony (Steven Martini) struggle with their dysfunctional love lives and dead-end existences. But when they get reacquainted with their cheery uncle Clive (
Bill Henderson
), the pair finds romance and friendship with mail carrier Kathy (Christa Miller) and immigrant Anna (Rosemarie Addeo).
Kevin Jordan
's directorial debut won the Discovery Award at the 1999 Toronto Film Festival.