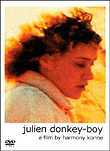 Julien Donkey-Boy
Cast:

Director:
Writer-director
Harmony Korine
delves into the mind of a schizophrenic teen in this surefire indie classic. Julien (
Ewen Bremner
) lives with his pregnant sister (
Chloë Sevigny
), his wannabe-wrestler brother (
Evan Neumann
) and their abusive father (
Werner Herzog
), who chugs cough syrup and wears a gas mask. Presented as a series of vignettes, this film shows the fragmentation of Julien's mind as he grapples with conflicting realities.