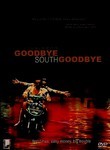 Goodbye South, Goodbye
Cast:

Director:
Kao (
Jack Kao
) is a disillusioned small-time gangster from the backwater 'burbs of Taipei who longs for a more substantial life. Collecting his ill-gotten savings, Kao invests in a restaurant. But his entrepreneurial dream soon fades when his dim-witted partner in crime, Flat Head (
Lim Giong
), digs himself into debt with a group of corrupt politicians. Hou Hsiao-Hsien directs this gritty and rhythmically complex crime drama.