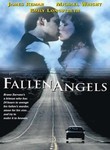 Alexandra Paul
stars as hardnosed Philadelphia cop Laura Underwood, who's looking forward to attending her high school reunion. But she's stunned to learn that someone has methodically bumped off a number of her male classmates. Underwood's inquest ultimately leads to ex-classmate Vicky Mayerson (Michelle Johnson) -- a woman seeking vengeance for an event that took place years ago.
Anthony Michael Hall
costars in this suspense-packed thriller.