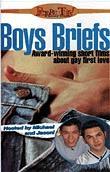 Boys Briefs
Cast:

Director:
This collection of six short films focuses on the first erotic experiences of young gay men. Actors
Jason Tobin
(Better Luck Tomorrow) and
Michael Saucedo
(River Made to Drown In) provide introductions to the films as they tour Los Angeles. The collection includes "Stanley Beloved" (Simon Chung), "The Absolution of Anthony" (Dean Slotar), "Smear" (Sam Zalutsky), "Front Room" (P.Y. Clouin), "Piglets" (Luc Feit) and "Fairy Tale" (David Kittredge).