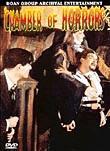 Chamber of Horrors
Cast:

Director:
A Gothic mansion is transformed into a house of horrors when mad scientist Dr. Manetta (
Leslie Banks
, whose face was disfigured in a real-life accident) carries out his intricately devised experiment. After luring a small group of people to his estate with promises of an inheritance, the doctor forces his captives into an elaborate maze, which ends in a torture chamber. The film is based on Edgar Wallace's novel
The Door with Seven Locks.