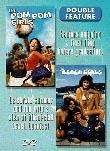 Beach Girls/Pom Pom Girls
Cast:

Joseph Ruben, Debra Blee, Bill Adler, Val Kline, Jennifer Ashley, Jeana Tomasina, Robert Carradine, James Daughton, Faith Christopher, Adam Roarke, Lou Fant, Dan Barrows, James Gammon, Herbie Braha, Diane Hart, Mary Jo Catlett, Cooper Huckabee, Fern Fitzgerald, Catherine Mary Stewart, Jim Kester

Director:
When three gals on vacation find bales of marijuana washed up on the shore by their beach house, the girls hightail it back to the house to start a party. Once things get going, the two more world-wise girls hope to loosen up their naïve friend.
Debra Blee
and
Val Kline
star. In The Pom Pom Girls, the football players get their cheerleader sweethearts into trouble during a prank war.
Robert Carradine
and
Jennifer Ashley
star.