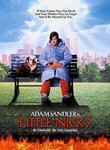 Little Nicky
Cast:

Adam Sandler, Harvey Keitel, Patricia Arquette, Rhys Ifans, Tommy 'Tiny' Lister, Kevin Nealon, Jon Lovitz, Allen Covert, Ozzy Osbourne, Dana Carvey, Rodney Dangerfield, Peter Dante, Clint Howard, Leah Lail, Jonathan Loughran, Michael McKean, Frank Sivero, David Spade, Quentin Tarantino, Reese Witherspoon, Regis Philbin

Director:
With two of his sons trying to muster up enough souls to oust Old Scratch (
Harvey Keitel
) from power, the netherworld patriarch sends his sweet, dim-bulb son Nicky (
Adam Sandler
) to Earth to bring back his scheming siblings. Meanwhile, they're turning Manhattan into a living hell. This devilish comedy revels in crass humor and teems with gag cameos (many by Sandler's onetime "Saturday Night Live" co-stars, including
Dana Carvey
and
Kevin Nealon
).