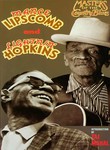 Mance Lipscomb and Lightnin' Hopkins: Masters of the Country Blues
Cast:

Director:
Masters of their craft, Texas bluesmen
Mance Lipscomb
and Lightnin' Hopkins pioneered a sound that was unique and classic -- and had a color all its own. This black-and-white documentary takes footage of the country-blues legends in their element and showcases the intricacies of each musician's style and technique. For newbie fans, the film also offers a solid background about the history of the blues.