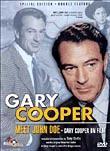 Gary Cooper: Meet John Doe/Gary Cooper on Film
Cast:

Gary Cooper, Barbara Stanwyck, Edward Arnold, Walter Brennan, Spring Byington, James Gleason, Gene Lockhart, Rod La Rocque, Irving Bacon, Regis Toomey, J. Farrell MacDonald, Warren Hymer, Harry Holman, Andrew Tombes, Pierre Watkin, Stanley Andrews, Mitchell Lewis, Charles C. Wilson, Vaughan Glaser, Sterling Holloway

Director:
After getting the ax, journalist Ann Mitchell (
Barbara Stanwyck
) devises a scheme to keep her job. In her last column, she writes a letter from "John Doe," a fictional vagabond who intends to jump to his death from city hall. When the missive sparks a public fury, the newspaper -- looking to increase circulation -- tricks an unsuspecting sap (
Gary Cooper
) into masquerading as Doe. The DVD includes a biographical piece about the illustrious actor.