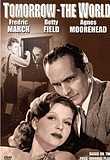 Tomorrow the World
Cast:

Director:
When war breaks out in Germany, the parents of young Emil Buckner (Skip Homelier) send their son to live in the United States with his American uncle (
Fredric March
). Although the American family reaches out to the boy, trying to make him part of their lives, he's been heavily indoctrinated in Nazi propaganda from his years in the Hitler Youth.
Leslie Fenton
directed this critically acclaimed World War II classic.