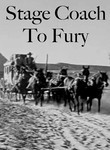 Stagecoach to Fury
Cast:

Director:
When Mexican bandits hold up a stagecoach and find there's no gold on board, they keep the passengers hostage until the next coach arrives. As they all wait nervously, cavalry officer Frank Townsend (
Forrest Tucker
) organizes his fellow captives against the outlaws. The tension of the situation forces each passenger's true nature to the surface, as revealed in flashbacks.
William F. Claxton
("Bonanza," "Little House on the Prairie") directs.