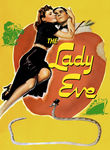 The Lady Eve
Cast:

Barbara Stanwyck, Henry Fonda, Charles Coburn, Eugene Pallette, William Demarest, Eric Blore, Melville Cooper, Martha O'Driscoll, Janet Beecher, Luis Alberni, Evelyn Beresford, Al Bridge, Jimmy Conlin, Bess Flowers, Arthur Hoyt, Frances Raymond, Jack Richardson, Reginald Sheffield, Julius Tannen, Walter Walker, Robert Warwick, Pat West

Director:
Seductive gold-digger
Barbara Stanwyck
and her conniving father (
Charles Coburn
) set out to fleece wealthy but naïve ophiologist
Henry Fonda
, the socially inept heir to a brewery fortune. But the tables turn when Stanwyck falls for her prey and Fonda gets wise to their scheme. Stanwyck then goes all-out to recapture Fonda's heart in this raucous battle of the sexes from renowned writer-director
Preston Sturges
.