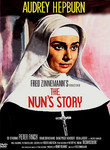 The Nun's Story
Cast:

Audrey Hepburn, Peter Finch, Edith Evans, Peggy Ashcroft, Colleen Dewhurst, Lionel Jeffries, Dean Jagger, Mildred Dunnock, Beatrice Straight, Patricia Collinge, Rosalie Crutchley, Ruth White, Barbara O'Neil, Margaret Phillips, Stephen Murray, Niall MacGinnis, Dorothy Alison, Errol John, Orlando Martins

Director:
This moving religious drama stars
Audrey Hepburn
(who won a BAFTA Award) in a range-stretching performance as the young postulant Sister Luke. Assigned to a hospital in the Belgian Congo, the novitiate must endure rigorous conditions that test her devotion to her calling. But it's at the outbreak of World War II, when she must obey an edict not to take sides in the conflict, that the nun finds her vows at odds with her personal beliefs.