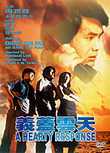 A Hearty Response
Cast:

Director:
In this
Norman Law
Man-directed Hong Kong action thriller,
Chow Yun-Fat
stars as Ho Ting-Bon, a bumbling cop who accidentally injures an attractive girl (Joey Wong) during a botched police operation. Not wanting to report the accident, Bon and his partner (
Lui Fong
) bring the girl to a hospital, where she feigns amnesia and claims Bon is her husband. Bon plays along, and the girl ends up bonding with his family and breaking up his relationship.