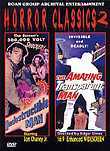 The Amazing Transparent Man / Indestructible Man
Cast:

Director:
Two ghastly tales of classic suspense are featured in this chilling double feature. In Indestructible Man, Lon Chaney is Charles "The Butcher" Benson, a brutal death row inmate double-crossed by his crooked lawyer. He gets his chance for revenge when, after he's been executed, a bizarre experiment brings him back to life -- more deadly than ever. In
Edgar G. Ulmer
's The Amazing Transparent Man, one tough thug becomes an invisible crime wave.