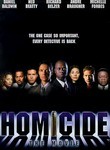 Homicide: The Movie
Cast:

Daniel Baldwin, Ned Beatty, Richard Belzer, Andre Braugher, Reed Diamond, Giancarlo Esposito, Michelle Forbes, Isabella Hofmann, Zeljko Ivanek, Clark Johnson, Yaphet Kotto, Melissa Leo, Michael Michele, Max Perlich, Jon Polito, Kyle Secor, Jon Seda, Jason Priestley, Callie Thorne, Eamonn Walker, Ed Begley Jr., Reg E. Cathey, Austin Pendleton

Director:
Former Homicide Shift Commander Al "G" Giardello (
Yaphet Kotto
), now the leading candidate for mayor of Baltimore, is gunned down while presenting a speech. Baltimore Police Department's homicide squad regroups to nab the perpetrator. Partners Frank Pembleton (
Andre Braugher
) and Tim Bayliss (
Kyle Secor
) set about their own investigation to track down their former boss's murderer. Produced by Baltimore native Barry Levinson.