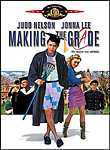 Making the Grade
Cast:

Director:
Palmer Woodrow III (
Dana Olsen
) has everything … except a high school sheepskin. Mom and Dad threaten to cut off his inheritance if he doesn't graduate, but Palmer would rather live it up in Europe, so he bribes hustler Eddie Keaton (
Judd Nelson
) to attend a snooty prep school in his stead. Dead broke and in hock, Eddie jumps at the chance. Posing as the privileged Palmer, Eddie snookers the teachers, beguiles the coeds and shakes up the campus.