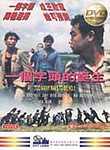 Too Many Ways to be No. 1
Cast:

Director:
Blending black comedy and Hong Kong-style action, this film follows the Hung Lok gang after their planned heist has gone awry and their boss has been killed in a bizarre accident. Default leader Ah Kau (
Ching Wan Lau
) decides to help the boss's widow pull off a job -- only to have history repeat itself. Unusual cinematography and tangled timelines make it easy to see why this has been called Pulp Fiction, Hong Kong style.