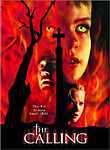 The Calling
Cast:

Director:
Newlywed Kristie St. Clair (
Laura Harris
) has a baby with her handsome news reporter husband, Marc (
Richard Lintern
). But as her son, Dylan (Alex Row-Brown), grows up, she notices his creepy behavior, strange abilities and evil tendencies. As her suspicions grow, Kristie ends up horrified by her own son and Marc -- who she fears is part of a cult. Even worse, Kristie believes Dylan may actually be the Antichrist who will usher in the Apocalypse.