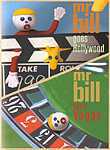 Mr. Bill Goes Hollywood / Mr. Bill Does Vegas
Cast:

Director:
The popular little clay man goes to Hollywood, cruising Sunset Strip and going to parties with his dog, Spot. He also runs into his blue nemesis, Mr. Sluggo, as well as a host of celebrities. Then, Mr. Bill and Spot head to Las Vegas to make some quick money and meet the locals. Along the way, he has run-ins with the likes of
Jenna Elfman
and Father Guido Sarducci. Extras include "The Biliad and the Odyssey," "Mr. Bill Gets Cloned" and more.