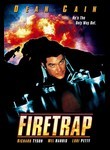 While trying to steal a valuable computer chip from a company's corporate headquarters, skilled thief Max Hooper (
Dean Cain
) is faced with a burning problem: Someone has set fire to the building. Should Max finish the job, evacuate and save his own skin? Or should he try to stay and save those who are still trapped inside?
Richard Tyson
,
Mel Harris
("thirtysomething") and
Lori Petty
co-star in this gritty disaster drama.