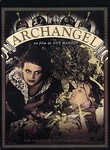 Twilight of the Ice Nymphs / Archangel
Cast:

Director:
Auteur
Guy Maddin
explores a smitten British officer's (
Kyle McCulloch
) obsessed love in Archangel, and Amelia (
Shelley Duvall
) and Cain's (
Frank Gorshin
) sun-soaked love affair in Twilight of the Ice Nymphs. Maddin also pays homage to silent films in the short parody, "The Heart of the World." Only six minutes, "Heart" tells the tale of Anna (Leslie Bais), who must save the world's heart from having an attack.