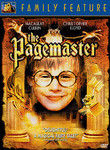 The Pagemaster
Cast:

Director:
Director
Joe Johnston
's special effects wizardry brings shy and easily frightened Richard Tyler's (
Macaulay Culkin
) story to life. The young boy ventures into a library in a storm and is soon swept away into a make-believe world of adventure, fantasy and horror. Guided by the Pagemaster (
Christopher Lloyd
), Richard confronts his fears as he battles classic literary characters in a quest to find an exit back to the real world.