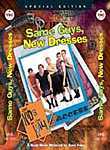 Kids in the Hall: Same Guys, New Dresses
Cast:

Director:
Catch the insanity! This hysterical 105-minute documentary, directed by
Dave Foley
, takes you behind the scenes with Kids in the Hall cast as they tour North America on their historic 2000 reunion tour. Includes a commentary track featuring The Kids, Andy Richter, Mike Meyers, Trey Parker from "South Park" and many more.