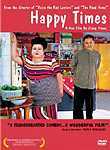 Happy Times
Cast:

Benshan Zhao, Li Xuejian, Ling Qibin, Dong Jie, Lifan Dong, Lihua Dong, Biao Fu, Ben Niu, Jinghua Gong, Hongjie Zhang, Bingkun Zhao

Director:
This Chinese comedy centers on human nature when it comes to love and the pursuit of happiness. When a matchmaker sends middle-aged Zhao (
Zhao Benshan
) the perfect wife, he tries to impress her by promising a far more extravagant wedding than he can afford. Then, desperate to make money, laid-off factory worker Zhao gets mired in a hilarious, tangled mess before he decides to come clean to his fiancée.
Trailer