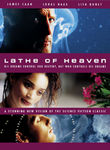 Lathe of Heaven
Cast:

Director:
The saying "dreams come true" is terrifyingly accurate for young George Orr (
Lukas Haas
), whose nighttime visions reshape reality. When his effort to bottle up his dreams through drugs ends in futility, he lands in the hands of psychiatrist William Haber (
James Caan
). But after he realizes that his patient's power is real, the shrink starts to manipulate George's dreams -- with disastrous consequences.