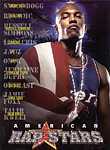 American Rap Stars
Cast:

Snoop Dogg, Run DMC, Onyx, Jermaine Dupri, OutKast, Jamie Foxx, Russell Simmons, Ludacris, Jay-Z, Talib Kweli, Cedric the Entertainer, Goodie Mob, Jadakiss, Rick Rubin, Ed Lover

Director:
Will hip-hop music become more vital in a post-9/11 world? This and other questions are explored in American Rap Stars, a documentary that looks deep into the heart of American rap music by going into the streets and the palatial mansions of many of the most vital voices in the 2002 rap industry. Includes performances by The Roots,
Onyx
and
OutKast
, plus appearances by
Ludacris
,
Rick Rubin
,
Jay Z
and
Goodie Mob
.