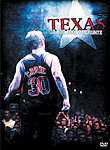 Texas: 30 Odd Foot of Grunts
Cast:

Director:
Follow Australian band 30 Odd Foot of Grunts (featuring actor
Russell Crowe
!) from Sydney to London to Austin, Texas, as they embark on a hectic schedule of rehearsals, album recordings and live concerts. This documentary concert film captures some engaging behind-the-scenes moments as the band goes on tour.