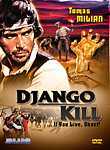 Django, Kill...If You Live, Shoot!
Cast:

Director:
This classic Italian spaghetti Western ranks among the strangest and most controversial, thanks to its hallucinatory mix of torture, violence and sexual depravity.
Tomas Milian
stars as the titular bandit who's double-crossed and left for dead. He rises from the grave to seek his revenge in a bizarre town called "The Unhappy Place." This version was created from original Italian negative materials and is fully restored.