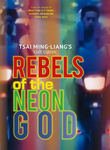 Rebels of the Neon God
Cast:

Director:
In this drama, the first movie from Taiwanese director
Tsai Ming-Liang
, a series of happenstance incidents is weaved into an intricate celluloid quilt. Two small-time crooks hang out at a skating rink, where one of them meets a girl. On his way to take her home, he smashes into the side mirror of a cab -- and soon finds the cab driver's son on his tail, seeking revenge.