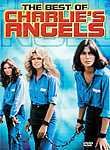 The Best of Charlie's Angels
Cast:

Kate Jackson, Farrah Fawcett, Jaclyn Smith, John Forsythe, David Doyle, David Huddleston, Mary Woronov, Kim Basinger, Neva Patterson, Lauren Tewes, Rene Auberjonois, Carole Cook, George Wyner, John Van Dreelen, Logan Ramsey, Benny Baker, Audrey Christie, Alan Manson, George Sperdakos, Ward Wood, G.W. Bailey, Don Gordon, John Dennis Johnston, Jenny O'Hara

Director:
Aaron Spelling spun gold with this 1970s series about three female police academy students (played in various succession by
Farrah Fawcett
,
Kate Jackson
,
Jaclyn Smith
, Cheryl Ladd, Shelley Hack and Tanya Roberts) plucked by the mysterious Charlie (
John Forsythe
) to staff a detective agency. Some of the first season's best episodes are collected here -- and feature not only Charlie's "angels" but their reliable sidekick, Bosley (
David Doyle
).