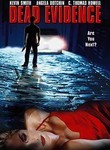 Dead Evidence
Cast:

Director:
Years ago, a serial killer was apparently put behind bars. But when bodies begin popping up bearing his distinct markings, the investigation is reopened. Detective Jodie Keane (
Angela Dotchin
) is put on the case, with some help from ex-cop John Lawless (
Kevin Smith
). Trouble is, Jodie is the bait!
C. Thomas Howell
co-stars in this production filmed entirely in New Zealand.