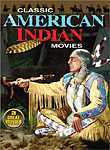 Sitting Bull / Cry Blood, Apache / Battles of Chief Pontiac
Cast:

Dale Robertson, Mary Murphy, J. Carrol Naish, Iron Eyes Cody, John Litel, William Hopper, Douglas Kennedy, William Tannen, Joel Fluellen, John Hamilton, Thomas Browne Henry, Jody McCrea, Dan Kemp, Jack Starrett, Don Henley, Robert Tessier, Joel McCrea, Lex Barker, Helen Westcott, Lon Chaney Jr., Roy Roberts

Director:
Three separate movies with American Indian themes are featured here. Sitting Bull illustrates the battle at Little Big Horn and the challenges Cavalry officer Robertson faced because he sympathized with the Native American community. In Cry Blood, Apache, a group of bloodthirsty cowboys seek out a treasure. Battles of Chief Pontiac is also included.